A prospective, randomized study of lumbar fusion. Preliminary results.
Zdeblick TA
Spine | 18 (8) | June 1993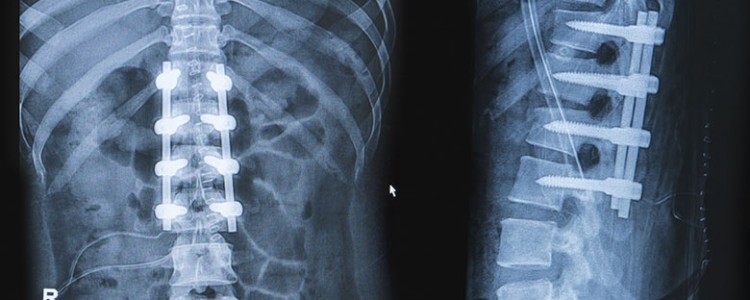 Purpose of Study
To determine the differences in fusion rate and clinical outcome in patients with degenerative disorders of the lumbar spine treated with posterolateral fusion without instrumentation, with semi-rigid instrumentation, and with rigid instrumentation.
Study Review
This  randomized study published in 1993 was one of the first to compare instrumentation to no instrumentation using the prospective approach.  One hundred and twenty four patients were included in this study who underwent surgery for a degenerative lumbar condition that included isthmic and degenerative spondylolisthesis, degenerative disc disease, scoliosis with spinal stenosis and repair of pseudoarthrosis. Patients were randomly assigned to one of three surgical groups: autogenous bone graft only, semirigid screw/plate fixation (Luque II), or rigid pedicle screw/rod fixation (TSRH – Medtronic). All patients underwent decompression prior to fusion.  The primary surgical outcome (fusion status) was determined at 1 year post-operatively. Flexion-extension x-rays were obtained and reviewed by a radiologist to determine fusion status. The secondary outcome was clinical status which were rated excellent, good, fair or poor based on the authors described criteria.
The main criticism of this study is the lack of validated outcome measures and subjectivity. It is unclear if the treating surgeon determined the subjective clinical result, which would have introduced bias into the study. Furthermore, the secondary outcome measure was based on pain status, medication use, and work status. Unfortunately, no pre-op baseline data was presented in regards to these variables.    As aforementioned, the primary outcome, fusion status was determined by utilizing flexion-extension and oblique radiographs.  It is known that x-rays may be unreliable for clear determination of fusion status.  CT scan would be recommended.
The baseline data showed the average ago of 50 years in group I (after adjustment for 9 transfers), 43 years in group II, and 49 years in group III.  There was presentation of either raw data or summarization of operative levels fused for each group, but rather an average level (1.5 – 1.7 levels across all 3 groups). The author did address the potential for confounding by analyzing for smokers vs. non-smokers.
Interestingly, when comparing the results of this study to a similar themed study by Karsten et al (1997 Volvo Award Winner in Clinical Studies), the findings and conclusions differ considerably.  Zdeblick argues that rigid pedicle screw/rod fixation led to higher fusion rates in the short term and clinical results were improved with increased fusion rates.  The study by Karsten et al concluded that no significant differences were seen in fusion rates or functional outcomes for instrumented vs. non-instrumented cases at one or two levels.
No statement regarding funding type or source was included for this study.  As the primary goal of Spineopedia is transparency and to make clear any potential sources of publication bias, we strongly believe that the reader must understand if a relationship exists between the author(s) and any parties involved in the study.   There may be underlying conflicts that would be addressed by clear disclosure policies.